State of the Art Equipment for Rent
Whether you're looking for a simple rental for small party or meeting, or you're seeking a trusted partner to supply audio visual rental equipment for a production, concert or tour, we can help. With our extensive catalog of well maintained equipment available for rent, including the latest technology from leading manufacturers, we'll can help you get what you need. Not only that, but we pride ourselves on our customer service – our friendly, expert team always go the extra mile for our clients.
Public Address Systems provide connection, sound amplification, and distribution to get your music heard by the public. It is a general term that typically describes everything that any instrument or vocal signals have to pass through to get to the audience.
This includes:
Consoles
Amplifiers
Equalizers
Cables
Wireless Systems
We offer portable PA systems for smaller venues and applications. They are easy to set up in just a few steps but powerful enough to provide consistent sound coverage.
Speakers are what project the sound to you and your audience. There are many different categories of speakers but the most common are front of house speakers, monitors, and subwoofers.
Front of house (FOH) speakers are the main speakers used in a PA system. They're going to be the most visible. The size of these speakers can vary widely depending on the venue or event type. Subwoofers are normally quite large and work in tandem with FOH speakers, enhancing the overall volume and tone of the resulting sound. Monitor speakers sit on the stage and are positioned to towards the performers. musicians will generally perform better if they can hear themselves! However, with the increasing popularity of Wireless In-Ear monitors, we are seeing less monitor speakers on stages because artists are able to hear themselves through the headsets they wear.
From singer songwriters to big orchestras, however small or big your venue is – you need a microphone to get your sound into the PA.
Some of the most popular type of microphones include:
Dynamic microphones are known as the work-horse because they can easily withstand the usual punishments that mics get while being tossed around on stage
Condenser microphones are typically used in recording but sometimes we use them for more intimate acoustic performances
Drum mics are designed and optimized specifically for each drum in a kit
Wireless mics are the most practical and convenient for stage performances, and help reduce the amount of clutter on a stage
Stages are a great way to attract your audience to a specific location and it gives them the opportunity to see the performers with ease. Whether you need a small riser for a presentation or a large mobile stage for a festival, our stage rentals are available for indoor and outdoor use. Our stages are able to be configured in a variety of sizes and heights and are great for bands, press risers, fashion show runways, dance shows, choir risers, audience seating and so much more.
Lighting is one of the easiest ways to elevate any performance. It highlights the performers on stage and can be programmed to coordinate with the songs that are being performed.
Lights are generally classified into two groups, washlights for backdrop and stage lighting and spotlights which focus on performers. You're probably familiar with spotlights and strobe lights, but there are also sophisticated controllers and software that are used to control the lights.
The final elements to lighting is the stands and trusses. These structures allow the lights to be setup and point to where you want them. Professionally made and installed trusses are recommended, they offer better security and reliability.
There are lots of other equipment required to support a performer or the PA system. Gear such as stands for microphones, instruments and music, miles of cables and extension cords, portable stages and risers, special effect machines and many more. We love the visual excitement that compliments any performance when fog machines or confetti cannons are used!
Other types of stage gear to consider are skirting panels to cover the sides of an elevated stage. They go a long way to hide the road cases and gear boxes that inadvertently get shoved under there. Expendables such as gaffer tape, batteries, adapters, chargers, zip ties, and other random bits and bobs are also a necessity but can never be found when you need them.
Cadence Studios provides professional-quality backline equipment to touring acts. Our team of technicians can set up your stage so bands can just walk on the stage, plug in, and get the show going. It's also not uncommon for several acts to use the same backline equipment if there are multiple acts in a show. This saves on overall costs and reduces the complexity of switching out gear for each band.

Commonly rented backline equipment:
Amps
Instruments
DJ equipment
Keyboards
Drum kits and cymbals
Stands
Seating
Rugs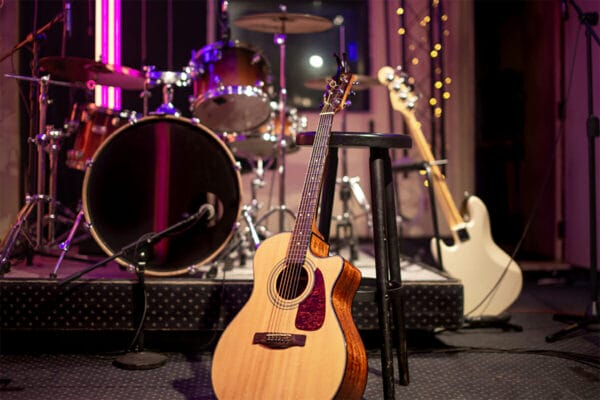 We didn't write these, but they're from trusted resources and we think you may find them useful for further exploration.
How can we help you create something memorable?