What's the Difference Between an Event Planner and an Event Producer?
Event planners and event producers: what's the difference? Each have a unique set of skills and help bring different aspects of a project to life. However, there are a couple significant differences between the two that distinguish what Cadence Studios does when producing an event, and the work of an event planner.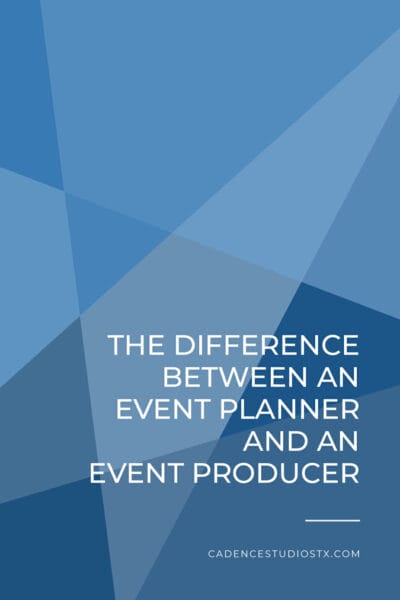 So what is the difference between an event planner and an event producer? These terms seem somewhat interchangeable but they're actually quite different roles with different expectations.. And an event production company you hire may not have an event planner or staff, and vise versa. Here are the responsibilities of each role:
Event Planners
Responsible for event strategy and details.
An Event Planner is the gatekeeper to the Event. Depending on the size and complexity of the event, they can have a big or small role to play. They are typically the point of contact with the client. They take the clients' overall vision, break it down into its basic components like the venue, catering, audio visual, and rentals, and then hire the companies to make it happen. A large part of their responsibilities includes keeping the event within the client's budget in line, managing the vendors hired, keeping the overall event timeline and ensuring that any problems during the event are seen to.
Event Producers
Make the event real.
Like an event planner, a producer's role can be big or small, depending on the event. Event
production goes above and beyond traditional event planning by combining event management with creative and technical production, focusing on the overall event experience.  From rigging, lighting, speakers, micrpohnes and MASSIVE amounts of duct tape, producers are the ones that usually know the Fire Marshall regulations for your venue and any permitting requirements.

Planners are a subset of producers; all producers are planners, but not all planners have the technical skills and knowledge of a producer. An event planner does not typically get involved in the technical aspects of an event. We consider ourselves event producers because we get involved in the audio, video, staging of the event, and how the entire experience all comes together.

Regardless of what you call yourself, what is most important when planning an event is to set and manage expectations for what each vendor involved in putting on your event. If these are not clearly communicated, something could get missed along the way.